FOUNDER & CEO
Nevin Brittain
Founder & CEO
Nevin Brittain graduated from Wayne State University with a degree in Computer Engineering. He began his Network Engineering career at Nortel Network one on the largest computer networking companies in the world. Nevin became a subject matter expert in technologies that helped large corporations securely share data and collaborate.
During the busiest years of his career, Nevin's great-grandmother passed due to complications associated with diabetes. Years of disconnected care, readmissions to the hospital, lack of collaboration, and an unclear action plan for the care team lead to his great-grandmother's untimely death. Armed with his knowledge and experiences, Nevin created Health Numeric to give caregivers the tools they need to better care for their patients and loved ones.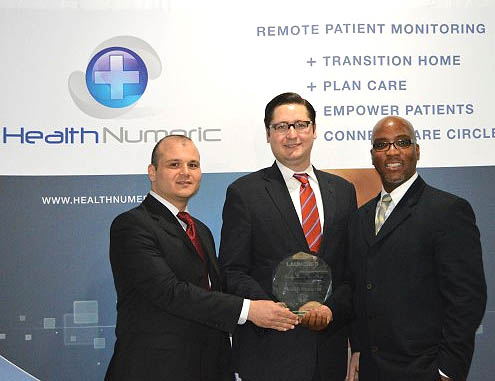 Honors & Awards
LAUNCHED 2013 honored emerging business innovators by presenting the City of East Lansing Innovator of the Year award. This year East Lansing Mayor Nathan Triplett presented Nevin Brittain Health Numeric's President and CEO the 2013 Innovator of the Year Award. The award acknowledged East Lansing's commitment to identifying talented small businesses and providing the support they need to become big businesses.
WHAT ARE THE BENEFITS ?
---
TRANSITION FROM HOSPITAL TO HOME
Give patients, families, and caregivers peace of mind. Remote patient monitoring eases the anxiety of going home.
---
IMPLEMENT A HOME CARE ACTION PLAN
Work closely with physicians and caregivers to create a custom monitoring plan to fit the patient's needs.
---
ENGAGE & EMPOWER PATIENTS
Provide patients with all the tools they need to monitor and make decisions about their care.
---
KEEP CAREGIVERS IN THE LOOP
Keep everyone in the Care Circle on the same page with flexible alerts based on each user's preferences.
---
IMPROVE OUTCOMES & QUALITY OF CARE
Reduce 30-day readmissions and complications while giving patients the very best care.
OUR FOUNDATION
Health Numeric is a HIPAA compliant cloud platform and support service that aids physicians, nurses, family, and others in a patient's care circle with comprehensive at-home monitoring. The information obtained in real-time allows caregivers the ability to monitor daily health vitals, generate progress reports, and receive notifications when measurements go beyond a set range. This type of constant, at-home monitoring improves outcomes by reducing complications and hospital readmissions. We are a team of dedicated professionals, ready to help you develop a Remote Patient Monitoring Program.
CALL US FOR AN EVALUATION

(833) 832-4767

Collaborative Connected Care